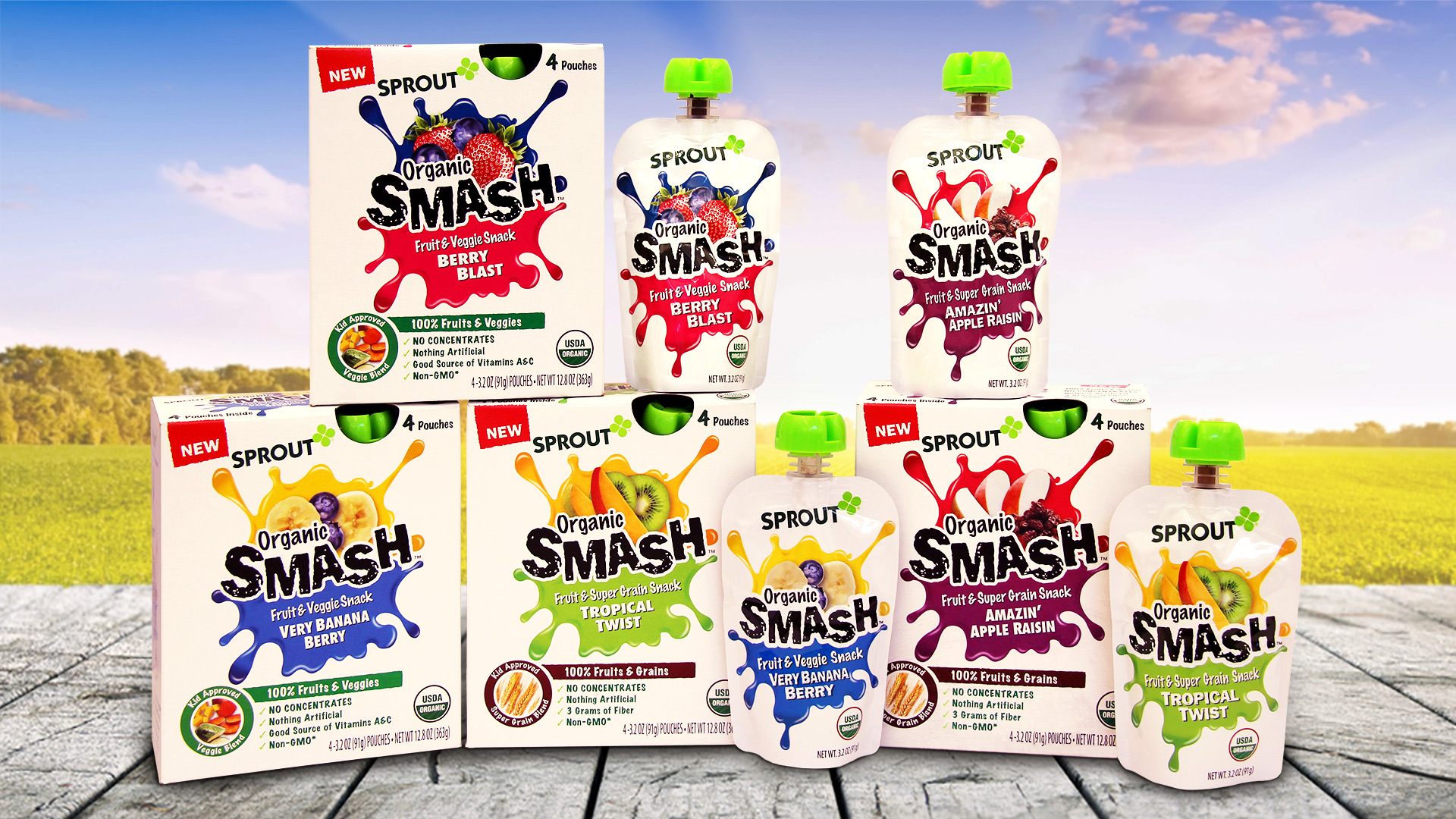 Looking for a healthy, organic on-the-go snack for your family? Look no further than Sprout Foods line of Organic "Smash" pouches! Sprout Foods, Inc., who manufactured the first organic baby food in a pouch, has extended their commitment to wholesome nutrition for the whole family. Using the same convenient twist off and resealable pouch, they introduced Sprout Organic 'SMASH.' The line consists of Fruits, Super Grains & Veggie Snacks in 4 descriptive flavors including Amazin' Apple Raisin, Tropical Twist, Berry Blast and Very Banana Berry.
Sprout Foods asked The Biondo Group to design a fun package that appealed to kids (6-12) and adults. The graphics needed to maintain Sprout's high-quality standards and white package equity while conveying an edgy, playful feeling. Dynamic splats of color were used for strong visual impact and flavor differentiation. The splat, while fun for kids, incorporated beautiful visuals of fruits and vegetables to reinforce the healthy, nutritional benefits important to Moms. The white background allowed the colorful graphics to "pop" off the package. The pouch graphics were adapted to multipack cartons that included "Mom" copy reinforcing the product benefits – Certified Organic, Non-GMO, made with 100% real fruits, vegetables, and grains, no concentrates, no added flavors or colors, and nothing artificial.
"Our Smash graphics are a great addition to Sprout's growing portfolio of all-family products. Eye-catching, full of fun with great shelf impact, Moms can be assured that the product is great for their kid's backpack and a healthy snack for them as well when they are on the go dropping the kids off at school activities or when they are on their way to the gym. Smash products fully embody Sprout's Honesty Pledge as being made from whole organic foods and simple, clean ingredients that you could find in your own kitchen." (Sunita Adams, VP of Marketing, Sprout Foods Inc.).
To find out more about "yummy, nutritious & healthy" Sprout Organic premium foods for babies, toddler and their families, as well as Sprout's Honesty Pledge visit http://www.sproutorganicfoods.com/ and for more examples of creating shelf impact with your product visit our web site: https://biondogroup.com/.