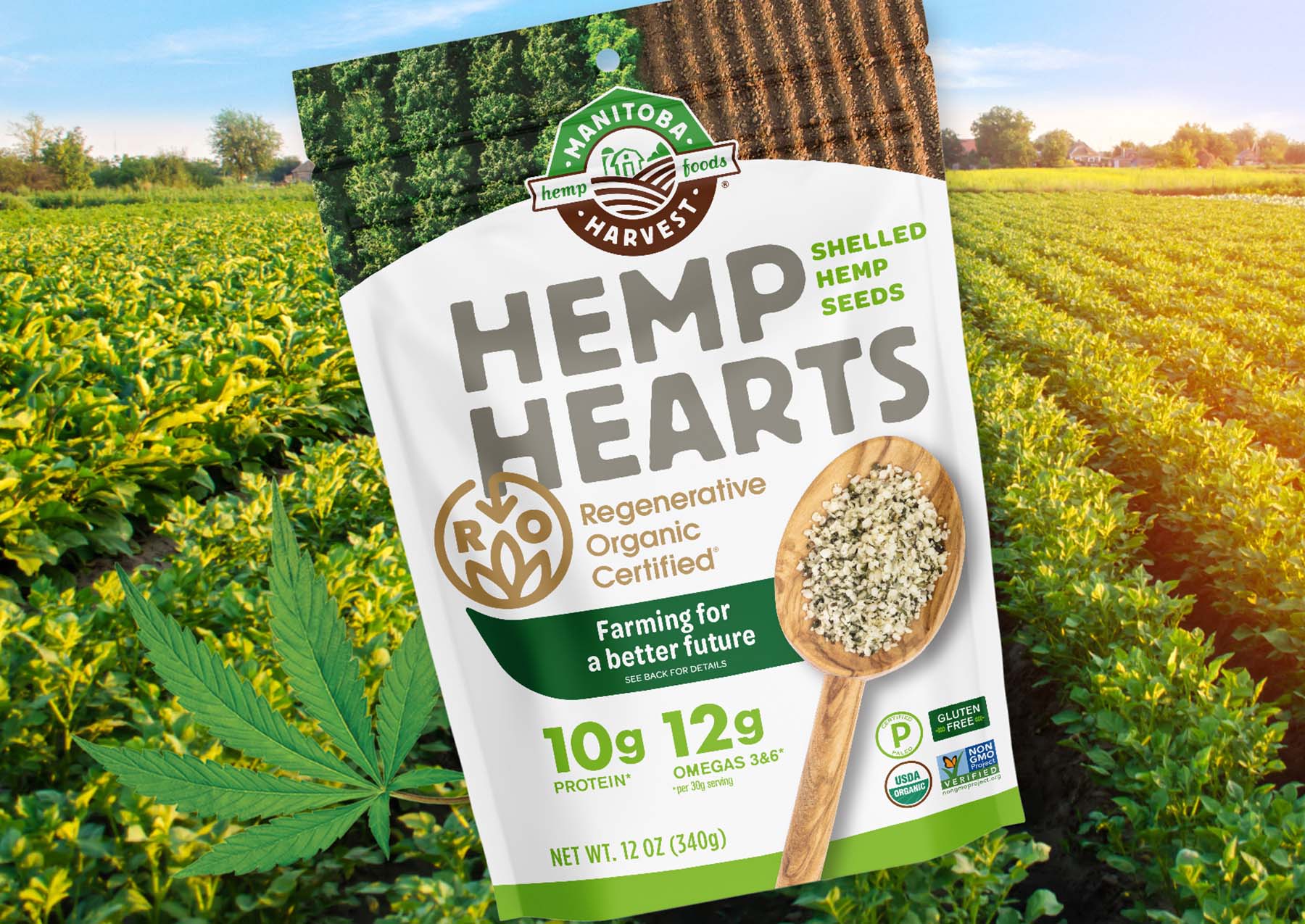 As heat waves raged across the planet this summer, the roll-out of Manitoba Harvest Regenerative Organic Certified® (ROC) Hemp Hearts into Whole Foods hits a chord with consumers increasingly concerned about climate change.
Biondo Group partnered with the world's leading hemp foods brand Manitoba Harvest, a wholly-owned subsidiary of Tilray Brands, to create an earth-friendly look for this offering that stands out and clearly expresses this product's crucial soil restoration message and seed-to-shelf story. It was essential to also maintain the current Hemp Hearts visual equities and retail brand block.
"Branding within the regenerative agricultural space delivers unique creative challenges. Rather than competing against brands for market share, here Manitoba Harvest is working cooperatively with other companies on a joint mission to reduce the earth's carbon," said Charles Biondo, founder and CEO of Biondo Group.
While only 15% of the global farmland is cared for using regenerative practices, the movement is quickly gaining momentum. Last year, twelve major food companies, including Mars, PepsiCo, and McCain, agreed on a plan to increase farmland using regenerative practices. See https://www.sustainable-markets.org/taskforces/agribusiness-task-force/
According to The Organic & Non-GMO Report, 58 of the world's top 100 food companies have either made regenerative agriculture commitments or have publicly stated regenerative agriculture pilots or intentions.
Biondo Group chose natural farm visuals, replacing the Manitoba Harvest traditional colored-coded arch to depict clean farming practices and created a prominent logo lock-up with the ROC seal. The product's "Farming for a Better Future" mission is emphasized with a green tag flag, bringing focus to the product image.
"Another challenge with growing a regenerative ag brand is to effectively communicate and emphasize multiple benefits on an altruistic (save the planet) and personal (taste & health) level. Simplicity is most powerful. We used a clean layout and type style to communicate these benefits clearly," said Charles Biondo.
The package design reinforces the offering positioning statement: "Did you know that hemp is a carbon-sequestering plant? By choosing Manitoba Harvest's Regenerative Organic Certified (ROC) Hemp Hearts, you're making a delicious and sustainable choice for your meals while reducing your carbon footprint."