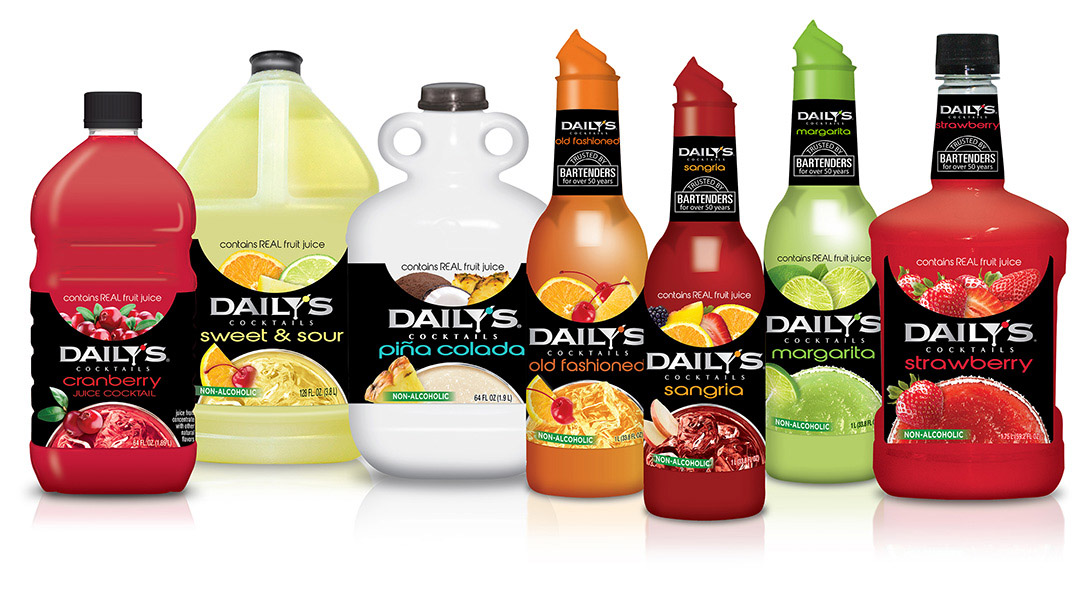 Harvest Hill Beverage Company and The Biondo Group collaborated in developing a new, more contemporary look for their existing line of Daily's Cocktail Mixers. The imagery was to be premium, upscale and impactful in the cluttered and colorful competitive shelf environment.
The final direction created a strong brand block on shelf with distinctive flavor differentiation. The fresh ingredient photography reinforces the project's design objectives to gain appetite appeal and point of differentiation – "made with real juice". The individual garnishes and iced photography reinforces refreshment and SKU differentiation. Daily's Cocktail Mixers are just what you need to impress your friends like a seasoned-pro mixology maven.
"Our new Daily's design has a strong impact at retail and continues to be a favorite among professional bartenders. The packaging reinforces our premium quality and real ingredients. It's the mixer that makes it easy to create the prefect drink for any occasion," said Ilene Bergenfeld, Chief Marketing Officer at Harvest Hill Beverage Company.
The line consists of approximately 38 SKUs in a variety of sizes from 1 liter to 1 gallon.
Impress your friends with a refreshing, perfect drink by going to Daily's Non-Alcoholic Mixers at: http://www.dailyscocktails.com/ready-to-mix/ and to learn more about creating the perfect package visit our web site at: https://biondogroup.com/.