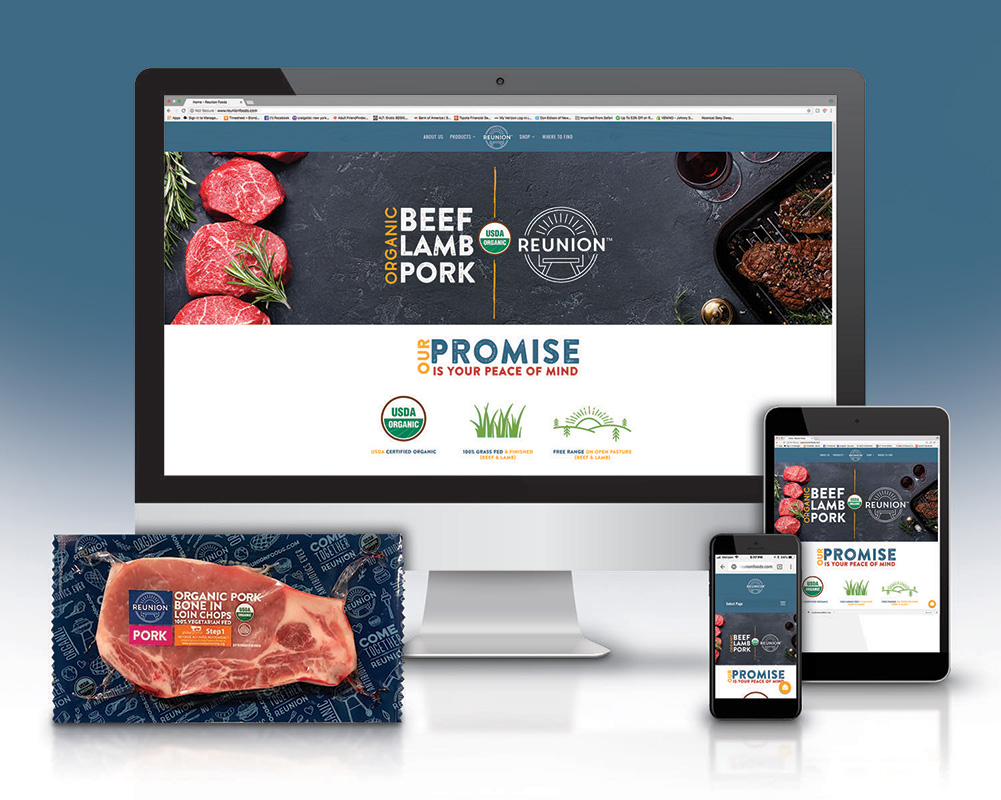 The Biondo Group and Reunion Foods have come together to form a successful partnership with the design of Reunion Foods' new packaging and web site.
Jessica, Ben and Seth Mosner founded Reunion Foods based on their family history of building positive lifestyles through their relationships with the environment and food. They are a family-owned new generation animal protein company that combines 60 years of experience with a passion and commitment to animal welfare, environmental stewardship and healthy living.
The Biondo Group's introduction to the Reunion Foods brand was with a single club store package wrapper. The success of this initial package led us to work with the Reunion family on their retail product packaging for pork, beef and lamb.
With learnings from our packaging experience, we developed a new exciting website that represented Reunion's philosophy and mantra – Quality with Conscience.
Each page was designed to visually tell the Reunion Foods story from cherished family memories to their ranchers' pride in animal welfare and the sustainability of their pastures. Smooth scrolling allows the viewer to navigate the site easily. The color pallet and type treatment has strong recall to Reunion's packaging graphics and reinforces the brand's personality. The site draws the viewer in to explore and learn more about the Reunion Foods brand and product line.
Become part of both the Reunion Foods and Biondo Group Families. To learn more, take a look at our websites.
For great organic meats visit: http://www.reunionfoods.com
For great design visit: https://www.biondogroup.com